The Description of WalkFit
WalkFit is a useful fitness application to establish a physical routine with a practical step counter. It has sensors that record your activity as you reach your goals.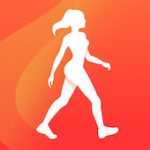 It is the ideal tool to lose extra pounds and stay in shape. It has training sessions with diagrams of the calories you can lose on a daily basis.
In addition, it stores detailed reports of your progress and the goals you have yet to meet. You can access these anywhere. So if you want to lose weight, download WalkFit, and achieve this goal with fun physical sessions.
WalkFit APK
Lose weight in no time with fun hikes
Once you download the application, you must complete your profile with data related to your age, sex, weight, and height. In this way, the app adapts to you to calculate the number of steps you must take daily. Also, establish exercise routines based on your information.
The WalkFit interface is very well designed with sections to measure your exercises and suggestions that indicate how to do the activity. It also has three training programs, designed to burn calories in a short time. First, very basic and light physical plans for beginners.
Second, programs with different levels and time intervals, designed exclusively to lose those extra kilos. Third, programs dedicated to daily walks, with recommendations on the type and speed of the walk.
With this type of program you can get in shape in 6 weeks. You just have to choose the physical plan and follow the instructions to the letter. Even the App has GPS sensors to know how many steps you have taken. Based on this, it gives you suggestions to increase or decrease speed.
Apart from this, the application allows you to track your physical progress with a detailed history of your activities. It shows in a simple menu the exercises you have done, duration, kilometers walked and what you managed to lose in body index.
You even get a section with suggestions from professionals to do physical activity in the best way. What's more, you find recommendations for a balanced diet low in calories.
Moreover, this application records your cardiac activity when walking. It indicates blood pressure and in the case of irregularities, it notifies you.
Features of WalkFit
Detailed monitoring of your physical activity.
The app tracks anywhere, pocket, jacket, or bag.
Constant reminders so that you do not give up on your goal of losing
weight.
It shows you an accurate history with the goals you have achieved.
Nutrition tips, lifestyles, and ways to walk.
Different training programs adapted to your physical capacity.
It offers integrated purchases to access all its functions.
It is frequently updated with new training sessions.
Recommended for the whole family.
It takes up little space on your mobile device.
Available for Android and iOS.
Key Features:
TRAINING PLANS
TRACK ALL YOUR ACTIVITY
STAY MOTIVATED
Read Privacy Policy: http://walkfit.pro/android/privacy-policy-app.html
Read Terms of Use: http://walkfit.pro/android/terms-of-use-app.html